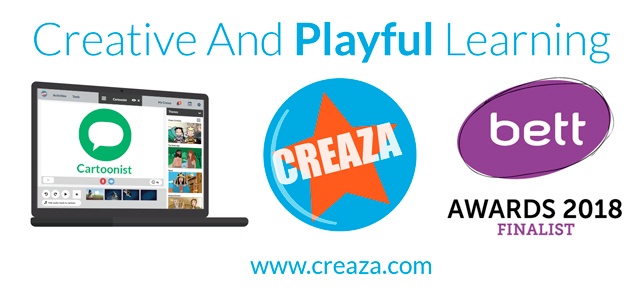 Creaza is very happy, excited, and proud to announce that we have been shortlisted as a finalist in the "International Digital Educational Resource" category at the prestigious Bett Awards 2018!
You can find all the finalists here.
The nomination is the end result of a long and thorough evaluation of all participants, emphasizing both the technical, pedagogical and academic aspects of each product. This is the 20th year that the Bett Awards have been held as a part of the annual Bett conference in London, which is one of the world's largest events when it comes to education technology.
Earlier this year, Creaza introduced a major upgrade when we launched a brand new, HTML-based version of Cartoonist. The new version includes a wide range of improvements and new functionality, such as access to all themes within the same cartoon, hundreds of integrated audio clips, and improved text functionality. You can learn more here.
Being nominated at the Bett Awards 2018 means a lot for us at Creaza, and it confirms that Creaza is viewed, within the education and technology world, to be among the top products for learning, teaching, and assessment. This provides us with lots of encouragement and motivation to further improve and develop our product in close collaboration with with students and teachers.
Hope to see you all at Bett 2018!
Team Creaza