Creaza is very happy and proud to announce that a brand new version of our Cartoonist tool is right around the corner.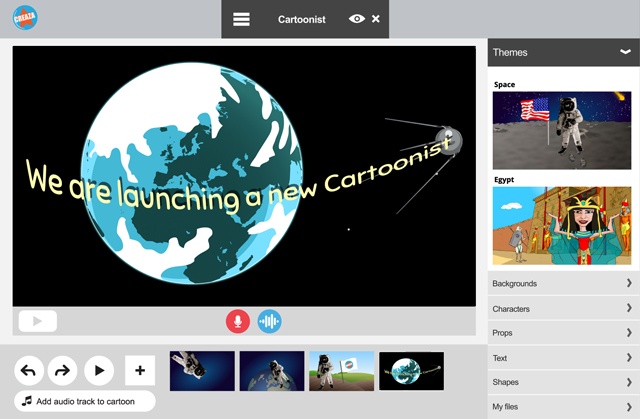 The new Cartoonist, which is fully HTML based, will provide users with all the possibilities that the current Cartoonist does:
Choose from hundreds of Cartoonist activities
Add backgrounds, characters, props, effects, shapes and text
Use your own images as backgrounds
Draw freehand
Record audio
Collaborate
The new version also includes several improvements and new features:
Get access to all Cartoonist themes and content in the same cartoon
Add music from our extensive audio library with just a few clicks
Upload and add your own music
Record audio more easily
Enjoy an improved and simpler method of adding text
Adjust the duration of individual slides
As if the above-mentioned weren't enough, the coming fall we will also be importing all of MovieEditor's hundreds of video clips to Cartoonist. This means that you will get access to all video clips, audio clips and cartoon content in one single tool. The integrated content can of course be combined with the users' own uploaded files.
Creaza Team