2016 is quickly coming to an end, and many have already started their well-deserved holidays. Creaza has released lots of new content and functionality in 2016, and even more is yet to come in 2017.
During the first quarter, a brand new version of Cartoonist will be launched. Creating awesome cartoons, presentations and digital stories will become even easier. It will also become easier to add voice-over and background music to your cartoons. All of Creaza's several hundred audio clips will be made available directly within the new Cartoonist tool.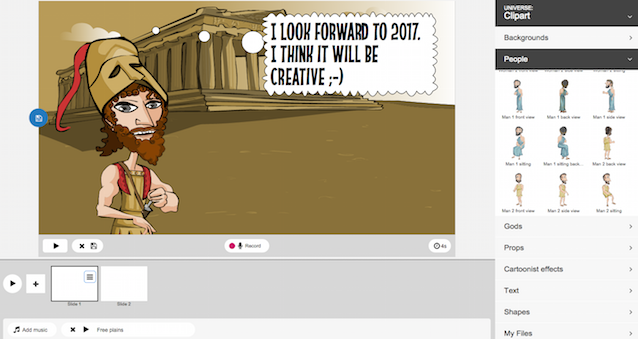 Sometime during the Spring of 2017, we will launch the second version of the new Cartoonist. This version will, in addition to the above-mentioned audio clips, also include all of Creaza's video clips. Users will then have access to both Creaza's video clips, audio clips and cartoon elements within the same tool. Creaza's content can of course also be combined with the users' own content. This is going to be awesome ;-)
Bett 2017
January 25-28
2017 is right around the corner, which means that so is BETT. Creaza is always looking forward to the BETT conference in London. We get to meet many of Creaza's users, talk to them and show them what they can expect from Creaza in the near future. This year we are especially looking forward to showing them the new Cartoonist! You will find Creaza at stand B:390 along with the rest of "The Norwegian Classrom" at the conference.
We are looking forward to a very exciting 2017!
We wish everyone a Merry Christmas and a Happy New Year!