Creaza 4.0 is now released!
A new theme called "Space" and a brand new Mindomo is now available for all Premium users!
Creaza is constantly growing, both when it comes to usage, content and functionality. New customers in many different countries are using Creaza Premium in all grade levels. We are very happy that all students and teachers in København and Fredriksberg municipality now will have access to Creaza Premium through UNI-login. We are also glad that all students and employees at the University of Nordland and Harstad University College now have access to Creaza Premium as well.
Over the course of a few days, students and teachers in close to 50 municipalities in Sweden will gain access to Creaza Premium through "Mediapoolen's" Pedagogisk Fönster. 200 000 students and teachers will have access to Creaza through their learning portal. We are looking forward to seeing even more of the great creative productions by students from Sweden.
Creaza is very proud to announce that we have released Creaza 4.0. One of the most exciting new features is our new theme "Space" in our Cartoonist tool. "Space" is one of the most important science subjects throughout the different grade levels in school, and Creaza has developed our new theme in cooperation with several teachers, as well as a Norwegian astrophycisist.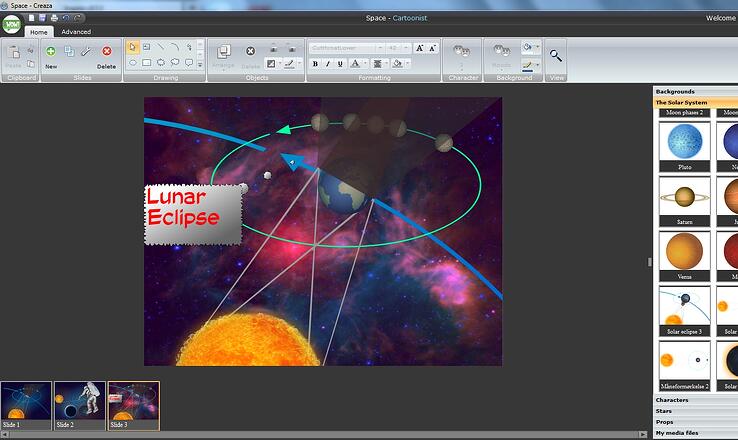 The possibilities are numerous!
Space contains a wide range of exciting backgrounds, planets, stars and props. It is also possible to illustrate different phenomena, such as moon phases, earth's seasons, day and night etc. Perhaps one wishes to show how our solar system looks, how a star develops, or maybe how the spacecraft Curiosity recently completed their successful trip to Mars? As always in Creaza you can import your cartoon to MovieEditor, where you can add voice-over, music, transitions and other effects.
In Creaza Cartoonist there are now 20 themes with a wide range of content!
See an example movie made with the Space theme and Creaza MovieEditor
Creaza has also launched a brand new version of the mind mapping tool Mindomo.
The new version of Mindomo contains a whole host of improvements and additional possibilities and functionality, that we are convinced that our users will enjoy.
Perhaps the biggest improvement in the new Mindomo is the "Presenter". This is a great new feature, which, among other things, enables you to zoom in on your mind map, and thereby focus on one particular aspect at a time. This makes your presentation that much more clear, clean and neat.
More improvements and new functionality:
Add pictures from Flickr, Google, Bing or Wikipedia
Add film from YouTube, Vimeo, Creaza or your own productions
Record sound
Add sound clips from Creaza or your own productions
New layout and many new themes
New functions for task information and workflow
Export to picture formats
We have also made large improvements on the back end system to increase performance and to provide an even better experience for the user. These improvements are accompanied by a new and enhanced storing process and export, as well as new servers.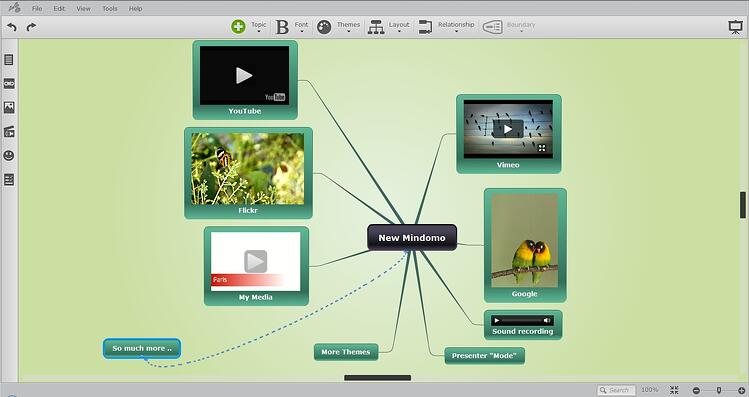 Make sure you also check out our new Cartoonist App for the iPad. This version contains large improvements and now supports IOS 6.
Schools with licenses: http://itunes.apple.com/us/app/creaza-cartoonist-edu/id517574464?mt=8
Individual users: http://itunes.apple.com/us/app/creaza-cartoonist/id517674681?mt=8