This week is the big Competence Week for Sweden's schools. All the Swedish students are on holiday, while most of the teachers are participating in different competence raising projects. Creaza has a lot of Swedish customers, and view Sweden as one of the most innovative and advanced countries when it comes to integrating digital learning in the schools.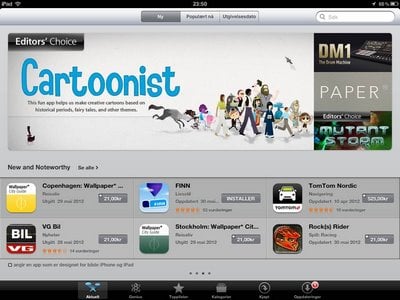 Sweden is probably also among the leading countries when it comes to iPads in the classroom. There is a strong focus on having one device per student, and recent feedback tells us that nearly one in three municipalities in Sweden have started big or small projects involving tablets. The majority of these tablets are iPads, and Creaza has recently made an app of its Cartoonist tool for the iPad.
We are extremely proud of the fact that the app was picked up as "Editors' Choice " back in June.
This app is very well suited for creating cartoons based on subject related material and creating presentations. The app is available in nine different languages, including Swedish.
Creaza wishes to mark the Swedish Competence Week by making our Cartoonist app available for individual users. It is FREE for a week!
All Swedish teachers, and all other iPad users across the world, can now download Creaza Cartoonist for free in the App Store.
For volume licenses (classroom, school or city) of the Cartoonist EDU App with different integrations, such as Fronter, please contact us by email or phone:
E-mail: sales@creaza.com
Phone + 47 47 77 88 00
Møtesplats Skola (Göteborg)
Creaza is participating in the Swedish Competence Week. We have our own stand (numberH04:22) at Mötesplats Skola. You are welcome to swing by and get a presentation of Creaza both on the iPad and on the web.
Helsingborg
Helsingborg has started a large initiative to implement the use of new digital tools and new ways of learning. Creaza is among these tools, and it will be used all the way from preschool to upper secondary school. Helsingborg will be conducting their own Competence Week. Creaza will be present for three days, and have presentations and workshops for nearly all of Helsingborg's teachers.